Specific fads come and go, but some linger longer than usual, which makes us wonder, why everyone is still doing yoga?
More than five thousand years ago, on the banks of a lake deep in the Himalayas, the first yoga postures were born. Since then, the practice of yoga has evolved, shaped by centuries of stretching and breathing.
Not only is the practice beneficial to the mind, body, and soul, but it is also accessible to people from all walks of life and all levels of experience. Its one requirement is an openness to exploring what your body is capable of and to let your breath lead you there.
At the Museum of Contemporary Art (MOCA), one of LA's most invigorating locations, Equinox and American Express hosted an evening for Platinum Card® Members. With exclusive access to the museum grounds and a custom yoga flow, the event presented a strong connection between yoga and MOCA's curated exhibits for all who attended.
Stemming from the human inclination to look beyond what's readily available, art and yoga require the same level of curiosity, patience, and dynamic participation in order to achieve its shared idea of success: full self-expression. Throughout the evening guests were led along these joint themes while experiencing art and yoga for themselves.
The excitement began with a private tour of MOCA's Our House exhibit, where viewers took in Carlos Cruz-Diez's glowing Cromosaturación, a series of three rooms saturated successively in red, blue, and green light to the hypnotic color field paintings of Mark Rothko. Here, members appreciated the art's consuming nature with a renewed sense of awareness and awe born out of being curious.
Soon after guests started their flow outside MOCA's Sculpture Garden, nestled next to a luminous Larry Bell sculpture. Lit by downtown LA's many towers, the class was guided by Equinox instructor Jaclyn Winters who channeled that same sense of curiosity and applied it to the breath-work and movement required of a yoga class.
With two additional instructors to provide posture and alignment support, the class flowed together, working in unison through a series of advanced poses that tested everyone's patience (and balance).
Taking notes from the renowned artists featured in MOCA, yogis were further encouraged to add a sense of playfulness to their practice by trying out more difficult poses. With each falter, shake, and occasional tumble back down to the mat, guests were pushed to participate in challenging new ways, breaking through the boundaries of their preconceived limits.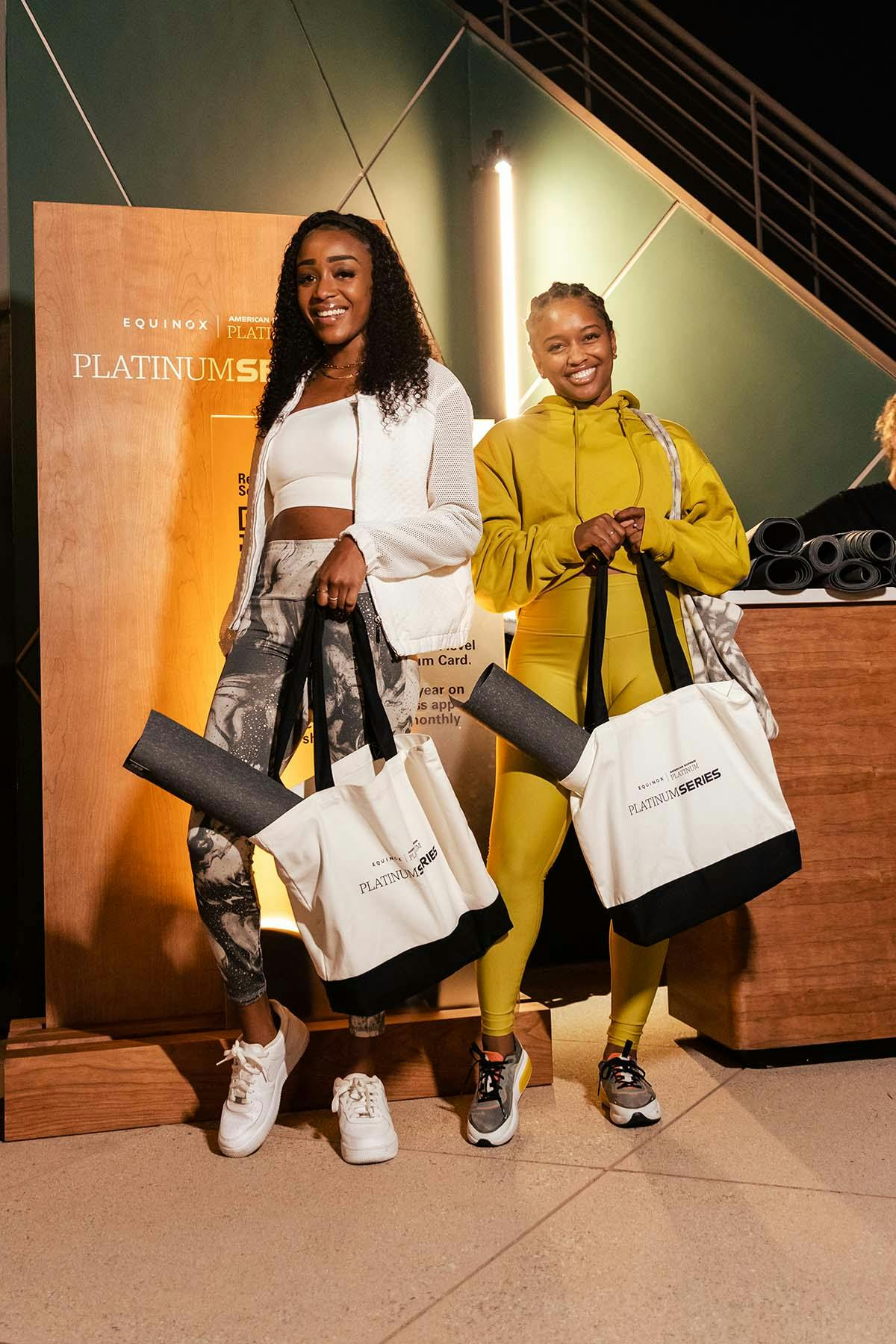 All that the practice of yoga asks is that one remains open to what's possible. In pose after pose, Jaclyn brought everyone back to the simple truth that just showing up is radical – that yoga, much like art, shows us the possibilities that surround us by allowing ourselves to be open, dedicated, and expressive as to what we can accomplish.
After feeling the restorative power of class, attendees ascended to the rooftop to enjoy a breathtaking bird's eye view of the Sculpture Garden to learn more about each other's own wellness journeys and how yoga can better inform a high-performance lifestyle. Drinks, bites, and a tote with yoga essentials and a custom mat capped the evening with the possibility of future flows to come.
If you are already an American Express Platinum Card®️ Member, enroll and use your Card to get $25 back in statement credits each month on eligible Equinox memberships. Learn more at platinum.equinox.com. Dive into more exclusive Equinox x American Express Digital Platinum Series events at equinox.com/landing/theplatinumseries.
Not an Equinox member yet, but interested in keeping up with American Express Platinum Card®️ and Equinox? Learn more about enrollment at platinum.equinox.com/enrollment.